Wire Brush
A wire brush is a very versatile tool used across almost every trade. From a simple wire hand brush, to a drill brush, to a wire brush for grinder. No matter what it looks like, it is an abrasive industrial brush often used for:
– cleaning rust and removing paint
– removing glues and other adhesives
– cleaning of steel welding elements
– creating a better conductive area for attaching electrical connections, and
– finishing surfaces
Wire Brushes are for concrete, metal, stone and wood finishing. Wire power brush bits are made for drills, grinders, plus rotary brass wire wheels for bench grinders. They come in many different sizes, stiffness and wire types.
Which Drill Brush do I choose?
There are a few important things you need to consider when choosing the best drill brush for your job:
1. RPM of your grinder and the RPM of the power brush
2. The characteristic of the job- are you removing debris or polishing?
3. The surface size you need to cover, and
4. What is your surface made from?
Wire Brushes for Grinders and Drills and different surface sizes
As we spoke about above, RPM is important. Cup brushes and dish brushes are good for cleaning larger surfaces as they flares only slightly at the right RPM.
They are also a good time saver as they have a larger footprint and can clean a larger area in a single pass.
A wire wheel for a angle grinder or bench grinder is for spot jobs like removing welding burs.
What Wire Brush is best for cleaning stainless steel?
You need to be a bit careful when cleaning stainless steel as using the wrong wire brushes can contaminate your stainless steel. This can cause more harm then good and encourage rust spots to appear.
So the best wire brush for stainless steel are wire brushes with stainless steel bristles.
What are Brass Bristle Wire Brushes good for?
Brass Wire Brushes are great for aluminium and other soft surfaces if you don't want to damage them. The other beneficial thing about a brass wire brush is that they are non-sparking unlike other metals. So are ideal if you are working in a potentially flammable environment where non-sparking tools are necessary.
What Wire Brush is best for Carbon Steel or Tempered Steel?
When you're working on carbon steel / tempered steel, you use a carbon steel brush.
You can safely use a stainless steel brush on carbon steel. But once that stainless steel brush touches the carbon steel, it should not be used for stainless steel. This is because even just the use of a stainless steel brush on carbon steel is enough to cause carbon contamination and will cause rust if you later use the drill brush on stainless steel.
Power Wire Brushes
Power Wire Brushes are made for angle grinders, bench grinders and drills. If you are looking for a drill brush or a wire brush for grinder we can help you out.
Generally, soft wire power brushes bring out the luster and polish in a surface, while stiff wire brushes remove heavy debris.
Just remember, grinder and drill brushes focus on the surface. They clean rust, remove paint, glue and other adhesives. But they are not for removing metal, other than smoothing welds. The industrial brush is the finishing tool after you have used a coated abrasive.
The tips of a wire brush do the work
A key thing to remember with a wire power bit is that the job will not go faster if you push harder. It is actually the opposite. If you push too hard, the wire bends and individual tips of the wire bit are no longer in contact with your surface.
Pressing too hard is only going to slow down your project and wear down your wire drill brush prematurely.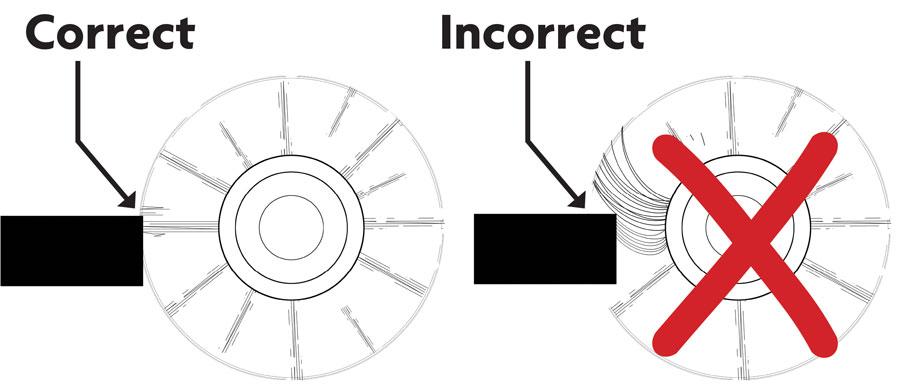 A  crimped drill wire brush spinning at a high speed can achieve the same result as a coarse-wire brush rotating at a slow speed. The main difference is that the fine-wire power brush will usually lasts longer. That's why we recommend that you always start with a softer brush!
Types of Wire Brushes
The main types of wire power brushes are either a drill brush or a wire wheel. We stock the following wire brushes:
– Cup Brushes and Wire Dish Brushes
– End Brushes
– Wheel Brushes with or without a Shank
– Hand Brushes
They are for concrete, metal, stone and wood surfaces. Wire brush attachments are made for drills, grinders and other types of fabrication tools. They come in many different sizes, stiffness and wire types.
Brush shape and its uses
A wheel brush suits applications like cleaning pipe and welds between passes.
Wire cup brushes clean surfaces well.
A wire end brush is for tubes, holes, or channels.
Twisted or knotted styles are the most aggressive, while crimped wires are less aggressive. Twist wire knot cups are for steel and metal and are for angle grinders.
Can't see what you need on our website? Call us on 0262428996 or  send us a message as we do special orders!